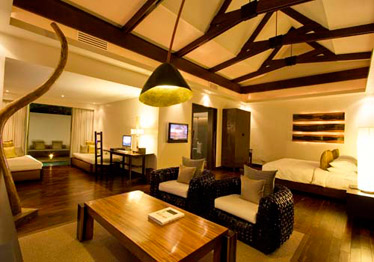 As more property developers expand the scale of hospitality, travelers are continuously searching for newer and fresher concepts when scouting for accommodations. Unlike before when only the biggest names and the most luxurious hotels and resorts have prominence, boutique hotels have successfully earned a decent market share and a great reputation for offering high-quality service.

Here is a short list of the 5 must-visit boutique hotels and resorts in the country:
Nestled in the tranquil peninsula of Punta Engano in Mactan Island, Abaca is an exclusive boutique resort that boasts of an oceanfront, suite room accommodations, and a full-service California-Mediterrenean restaurant. The contemporary Asian vibe of the resort is a collaboration between Canadian architect Michael Gottschalk and Jeny Compagnon while the minimalist room interiors are designed by Filipino designers Kenneth Cobonpue and Carlo Cordero.
Abaca has been featured by prestigious travel guides Conde Nast Traveler and The Miele Guide. The award-winning Abaca Restaurant is spearheaded by Chef Wade Watson from Australia.
The simplicity and contemporary luxury of Azalea Residences makes it one of the most preferred Baguio accommodations today. Azalea Residences is a product of Fog Horn Inc. which aims to give guests the comfort and experience that every traveler expects from the leading hotels in the city. The rooms are designed and equipped like the condos in the metro.
Established in 2011, The Bayleaf Intramuros is truly an outstanding newcomer in the Philippine hospitality scene after having had earned the coveted TripAdvisor's Travelers Choice Award for two consecutive years and the Gold Circle Award from Agoda. In 2013, The Bayleaf Intramuros has also been awarded with a Certificate of Excellence by TripAdvisor, making it one of the top-performing 10% of all listed businesses in the world.
Most known for its romance and emotion-inspired theme, The Boutique Bed and Breakfast or simply The Boutique is a popular boutique hotel in Tagaytay that offers a five-star experience. The Boutique is the world's first hotel to offer its guests the opportunity to select the room scent and bath and body essentials.  There is also an extensive line of specialty pillows for the most discerning guests.
Travelers who are looking for cozy and stylish rooms and lofts in the heart of Makati can't miss this new kind of accommodation. Inspired by world-renowned artist Pablo Picasso, The Picasso shares with its guests an air of vintage and novelty. Architect Dominic Galicia and interior designer Tina Periquet worked together in revamping an old building into an artistic fusion.
About the Guest Author: MoneyMax is the Philippines' foremost online platform for comparing financial and telecom products and services - fast, comprehensive, and free. We aim to give the power of smart purchase decisions back to Filipino consumers by providing everything they need to become financially savvy. Compare credit cards, loans, broadband plans and insurance at MoneyMax.ph.