Reading Time: minutes
JEG Development Corporation (JDC) joins the array of sustainable buildings in Cebu with the recent introduction of its first high rise property.
A cutting-edge Grade A office and retail building-the JEG Tower-is set to take form over the Metro Cebu skyline after breaking ground last February. JDC is developing the 22-story structure beside the BPI Corporate Center and is nearby Ayala Cebu. The structure has a pre-certified Silver rating from the US Green Building Council (USGBC) under its Leadership for Energy and Environmental Design-Core and Shell (LEED-CS) program. With its ergonomic design and structure, it will be one of the few buildings in the city to use less water and energy and emit fewer greenhouse gases.

The certification also ensures that the JEG Tower will be bolstered with state-of-the-art facilities such as 100% back-up power with 24/7 capability and variable refrigerant flow (VRF) air conditioning. Moreover, the property will have a shared roof deck garden, bike racks, shower rooms, and enhanced interior spaces for maximum views and natural lighting.
"We will be one of the first buildings in the business park to have a LEED certification," says JEG Chief Operations Officer Marko Sarmiento during the groundbreaking ceremony. "This attests to our vision to build an eco-friendly structure, which can help the market shift toward a more sustainable design."
In line with the implementation of the Philippine Green Building Code, the local government of Cebu has put out initiatives showing its commitment to caring for the environment. The city is already converting streetlights to LED in order to reduce costs and is promoting its Bus Rapid Transit as a mass transport system, among others.
Cebu has long established itself as an international business hub. As a top outsourcing destination, Metro Cebu's market vibrancy fosters the perfect environment for economic districts and IT parks.

"JDC's long-standing presence in Cebu has helped us in our vision to learn the industry and eventually build the most aspirational high rise in the area." Sarmiento adds.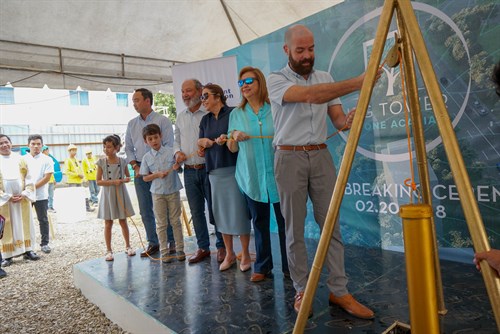 The JEG Development Corporation was founded by Jose E. Garcia in February 1994. For the first nine years of its existence, it functioned primarily as a holdings company for his business interests but completely changed to a staffed and operating corporation in 2003. It has then since familiarized itself with the real estate landscape in Cebu, backed with a rich operational history and experience.
The JEG Tower project diversifies JDC's list of business ventures in the location. Aside from office spaces, the developer also has retail and residential properties such as The Gallery and the JDC Tomadachi Premium Residences.
The project is a collaboration between JDC One Acacia Corporation, KMC Savills, Arcadis Philippines, and Casas + Architects. The building is set to be turned over by the first quarter of 2020.