Reading Time: minutes
Bonifacio Global City (BGC) has achieved substantial growth in terms of real estate development, employment, entertainment, and cultural activities in the past few years. The premier central business district of Taguig City has become home to plenty of established international and local corporations along with many business process outsourcing (BPO) companies and financial institutions. Soon, selected government offices such as the Senate of the Philippines will call BGC their home.
Dubbed as "the next financial district" in Metro Manila, BGC is the preferred location of many multinational companies and developers. Its 5th Avenue is quickly becoming the premier address as companies build their corporate headquarters in the prime buildings along this main road. In fact, big global brands and corporations, namely PhilAm Life, Philippine Stock Exchange (PSE), Coca Cola Philippines, P&G and Shangri-La The Fort have all chosen 5th Avenue as their location.
BGC is also one of the most successful townships in Metro Manila. This new real estate trend has encouraged local developers to capitalize on the positive market. In fact, the Fort Bonifacio central business district is made up of numerous townships, including McKinley Hill, Uptown Bonifacio, McKinley West, Veritown Fort and Forbes Town Center.
However, for the BGC newbie, getting to and exploring the fast-paced area can be a bit overwhelming, especially when new bus routes, buildings, and establishment rose in the area over the years.  Here are some tips on how to get to BGC and explore the vicinity.
Getting to BGC
There are multiple ways to arrive in BGC as it is accessible via private and public modes of transportation. BGC can easily be accessed through its main entry points via Kalayaan or McKinley Road in EDSA or C5.  Parking is also not a problem for those who own vehicles. There are 15 parking lots around BGC that offers a total of 5,249 parking spaces.
If you want to avoid the hassle of looking for parking spaces, commuting is also a viable option. Given its location, buses plying the EDSA route or the MRT can drop you off at the Shell Gas Station located in the corner of Ayala and EDSA. This drop-off point will easily connect you to the BGC Bus terminal.
Ride the BGC Bus
With the use of a BEEP card and cash, a person can ride the buses that pass through different routes in the area. These cards are available at all MRT and LRT stations, Market! Market! Bus Terminal, The Mind Museum Ticketing Office, Bonifacio One Technology Tower, and BGC Bus Office. The fare is only Php 12 per ride, but if the card is reloaded with Php 100, the passenger can enjoy up to 10 bus trips. It can also be reloaded in Bayad Centers, SM Bills Payment Counters and NAIA Terminal 3.
The BGC bus offers an updated and scheduled route for the convenience of the passengers and to cover more key areas in the city. There are 6 routes being offered on different schedules. The Central, East and North routes run from 6 am to 10 pm every day. On the other hand, the newly-introduced Upper West and Lower West routes run at 6 am to 10 am and 5 pm to 10 pm from Monday to Friday only.
The graveyard-shift employees are also being accommodated to better serve the BPO sector and other shifting employees. The BGC Bus's night route runs from 10 pm to 6 am every day.
Here is the breakdown of the following routes:
•   Central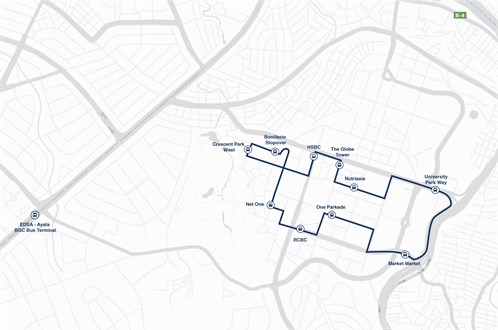 This route has 9 stopovers over Bonifacio Global City. The starting point is in Market! Market! It will stop at the following spots:
1.    One Parkade
2.    RCBC
3.    Net One
6.    HSBC
8.    Nutriasia
9.    University Parkway 
•   North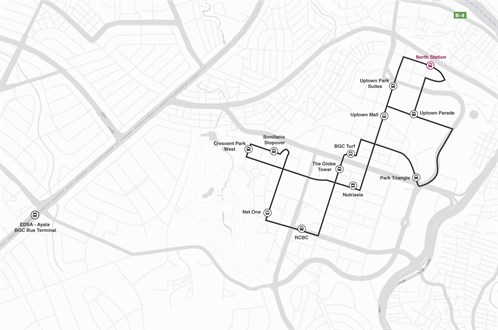 This is the second longest route with 11 stopovers. The pick-up point starts in North Station and will stop in the following spots:
1.    Uptown Park Suites
3.    BGC Turf
5.    RCBC
6.    Net One
9.    Nutriasia
10.  Uptown Mall
11.  Uptown Parade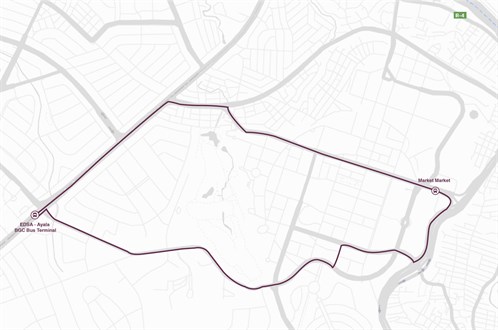 This is the express route in BGC that covers two main access points to bring people in and out of the city.
•    Upper West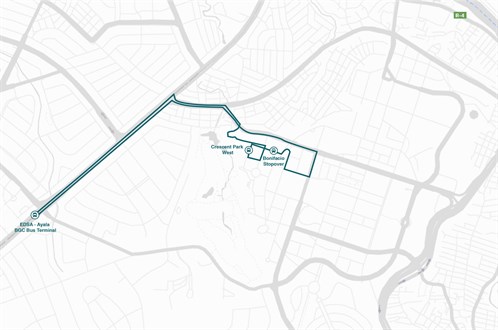 This route caters to 2 stopovers only. The starting point for this route is EDSA Ayala and will stop at the following spots:
•   Lower West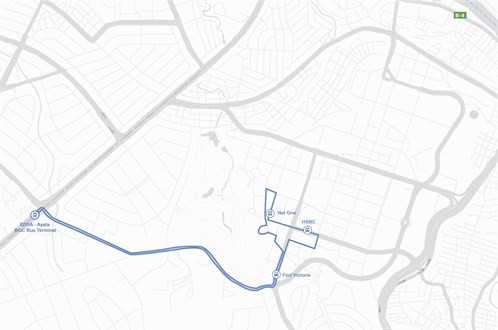 This route caters to 3 stopovers only. The starting point for this route is also EDSA Ayala and will stop at the following spots:
1.    RCBC
2.    Net One
•   Night Route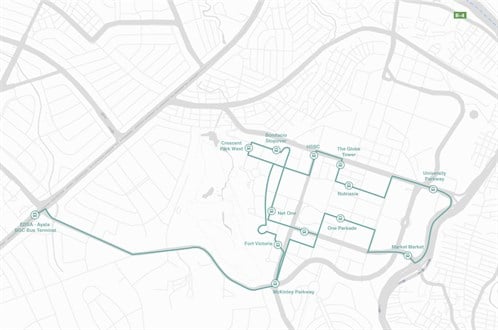 This route caters to all key locations in BGC with its 16 stopovers. The starting point for the said route is in EDSA Ayala and have 16 drop-off points:
1.    McKinley Parkway
2.    RCBC
3.    Net One
6.    HSBC
8.    Nutriasia
9.    University Parkway
10.  Market! Market!
11.  One Parkade
12.  RCBC
13.  Net One
16.  Fort Victoria
The BGC Bus' North Route also passes by the new developments such as the Uptown Mall, Uptown Parade and the Inoza Tower, a high-grade corporate tower located along the 40th Street. These new properties are also a few meters away from the main thoroughfare Kalayaan Avenue and C-5 roads, offering access to people coming from the different parts of Metro Manila.
Go by foot
BGC is a walkable neighborhood. The proximity of offices and condominiums to parks, recreation and shopping centers, hotels, restaurants, schools and other buildings encourage people to walk to their destinations instead of riding vehicles. Discovering the sights and sounds of this fast-growing business district by foot will make it a truly unique experience. Enjoy the best street art with colorful murals and random art installations.
BGC is also a bike-friendly neighborhood. In its attempt to promote better health and sustainable living, bike rentals are available for people's enjoyment. BGC visitors can enjoy clean transportation such as Tutubi bikes. You may contact Fort Bonifacio Development Corporation at (02) 818 3601 to inquire about the Tutubi rental.
Bike hubs are also stationed around the city for its maximum use and rider convenience. Office spaces such as ArthaLand Century Pacific Tower and Sun Life Centre are also adapting bike hubs in the workplace to help advocate for a greener means of transportation.