Reading Time: minutes
Office markets across Asia are expected to operate within a stabilized pace of expansion as more and more multinational companies continue to see the potential of the region to be one of the world's fastest-growing economies. Technology companies and flexible space operators, including coworking and electronic gaming, are expected to lead demand for office space.
In 2019, Asian cities are home to the world's most expensive premium office space, even pricier than offices available in the US and Europe. Since last year, Hong Kong, Beijing, Shanghai, and Shenzhen have seen a strong office leasing demand from existing occupier sectors. Singapore and Tokyo are also becoming one of the most expensive for commercial properties. Ironically, Kuala Lumpur, Manila, and Bangkok have also topped the list of cities that offer the most affordable premium office locations globally.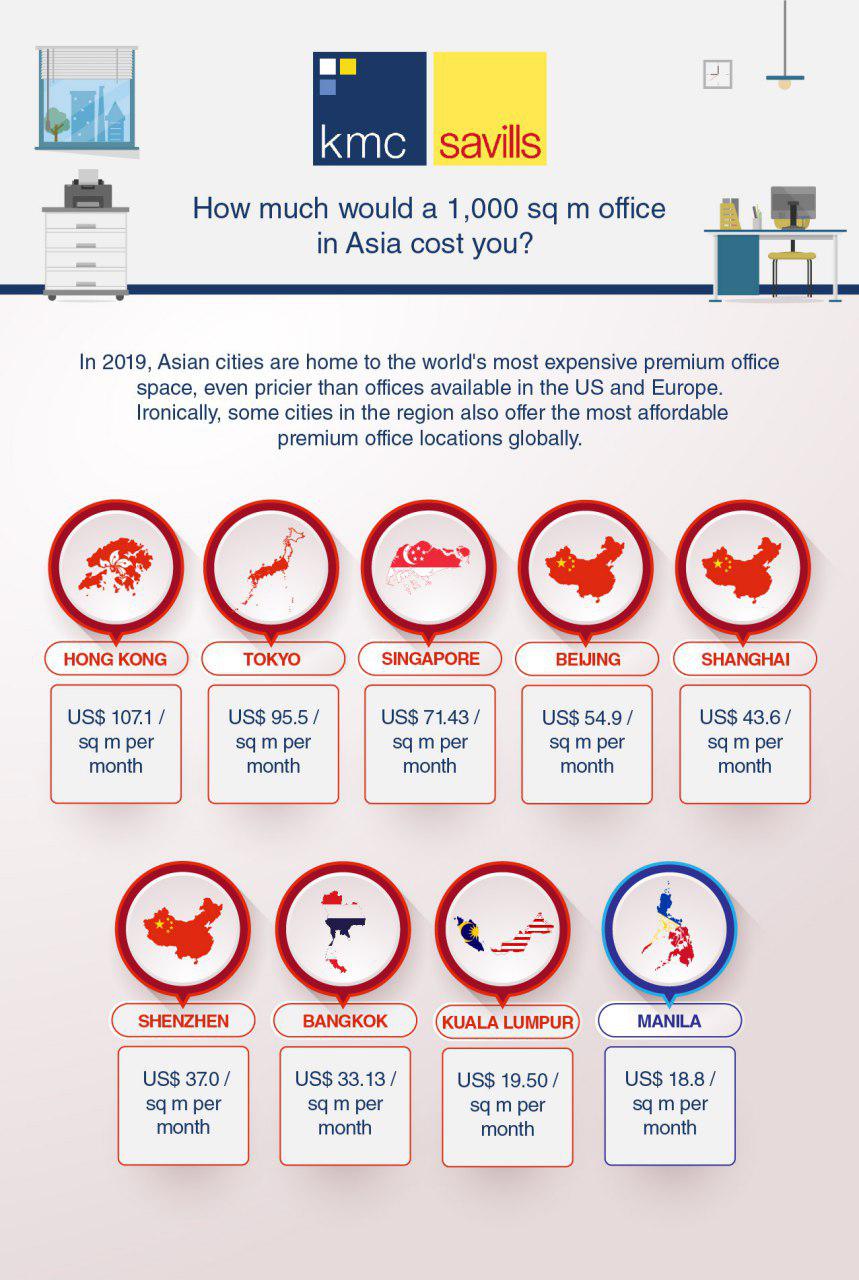 Hong Kong
Central, Hong Kong's main business and lifestyle district remains the world's most expensive office address for the third straight year. According to Savills data, the average annual rent in Central rose to US$ 107.1 per sq m per month, which is much more expensive than office spots in New York and London. This area remains to be the preferred location for the finance and law sectors, as well as multinational companies that locate in Asia.

Office supply in Central would continue to grow rapidly due to Chinese occupiers and modest surrendering of space by the financial sector after the recent financial market decline. Because of this, rents in offices located at this area are expected to drop by 3.8% in 2019, a healthy correction following growth of over 40% growth since early 2015.
Tokyo
As the 2020 Tokyo Olympics nears, Grade A vacancy rates in the Japanese capital is now below 1%. Savills Japan reports that despite the high levels of office supply, a strong tailwind of demand looks set to keep vacancy tight as large-scale developments are positively changing the market dynamics. Average premium office lease rates in Shibuya and Toranomon can be as high as US$ 95.5 per sq m per month.

Co-working spaces are also emerging in Tokyo, providing opportunities for smaller businesses and companies. This trend is expected to continue prospering in the coming years as tenants' desire to move to central areas, regardless of business size.
Beijing, Shanghai, and Shenzhen
China is currently the second largest economy in the world, making office spaces in prime locations in Beijing, Shanghai, and Shenzhen one of the most expensive in the world compared to other key cities. Office lease rates continue to rise in the coming years.

According to Savills data, offices in Beijing are at US$ 54.9 per sq m per month, while premium office spaces in Shanghai and Shenzhen are priced at US$ 43.6 per sq m per month and US$ 37.0 per sq m per month, respectively.
Singapore
In 2018, Singapore has also recorded the highest growth in average Grade A office rent at 15%. The city's prime central business district Grade A offices are heading into the third consecutive year of increase, supported by the steady demand amid the tightening completion of new office stock.
The average Singapore office rental rate varies between buildings, locations, and districts, soaring to at least US$ 71.43 per sq m per month. However, overall rental growth on a quarterly basis has slowed down. The most expensive areas remain to be office spaces in Marina Bay and Raffles Place.
Data show that Singapore is the preferred location for finance, technology, and law occupiers as well. Open offices and co-working are also starting to emerge as a viable option for startup companies in the area.
Bangkok
Bangkok office rents continue to rise, hitting record highs in the first half of this year. According to latest research, Grade A offices that are located at the city's CBD are priced US$ 33.13 per sq m per month in 1Q 2019. However, Bangkok office spaces are ranked as the third most affordable in Southeast Asia.
There was also a 65,000 sq m total take-up recorded in the same period, which is an increase of 15.1% YoY. Meanwhile, vacancy rates nosedived to 7.3% over Q1 2018 as well. However, there is an expected increase in supply this year as 750,000 sq m of office space is currently under construction.
Kuala Lumpur
Despite being ranked first as the Southeast Asian cities which price their office space the lowest, the Malaysian capital is expected to become the biggest office space market in Southeast Asia. In the first quarter of the year, average office lease rates in the city is around US$ 19.50 per sq m per month.
Property consultants project the city's office market to flourish as the urban areas expand to the Klang Valley, were likely to remain weak but will see demand from the IT industry, co-working operators, and the finance sector, among others. An additional 1.9 million sq m of office space is also due for completion by 2022, making Kuala Lumpur's stock 'getting very close' to Hong Kong's 11.8 million sq m offering.
Manila
The Philippine capital is also on the 'fast track towards prominence among investors in Southeast Asia'. Despite experiencing spikes in inflation in 2018, prices in the property market have not detracted investors in locating their companies in the country's main central business districts. Average Grade A building lease rates as of 1Q 2019 is at US$ 18.8 per sq m per month. A combination of sustained, healthy demand from the offshore and outsourcing (O&O) sector and the continued rise of the Philippine Offshore Gaming Operators (POGO) has been driving demand in Metro Manila's office market despite 746,900 sq m of new Grade A office launching in 2018.
For the longest time, Makati has been the go-to office location for most businesses in Metro Manila. It has even been touted as the country's financial capital as many multinational and local companies are located. Bonifacio Global City, Bay Area, Ortigas, and Alabang are also following its track as many IT-BPM, POGOs, and other sectors continue to occupy office space.
Due to the rapid growth of the IT-BPM, POGO, E-commerce, and other technology sectors, office lease rates in these key Asian cities remain competitive globally. Data show that companies under this sector occupy around 15-20% of total gross office leasing volumes, compared to 5-10% in 2016.
Moreover, international and local coworking companies are also rapidly increasing their presence in Asia, at pace with the global trend, contributing to the steady rise of the office market in the region.