Reading Time: minutes
There is a reason why Insular Life remains one of the leading insurance companies in the Philippines even after a century of service: its ability to evolve with the changing times.  As the iconic Insular Life Building along Ayala Avenue re-opened for leasing after a two-year renovation period, the company proved its status as a true gem among the Makati skyline.
Classic and Dynamic
Gracing Makati CBD's bustling streets since 1962, the Insular Life Building is one of the oldest structures in Ayala corner Paseo. The landmark unveiled newer facilities and better interior for its clients. It has also opened its doors and stepped on to the next level technology-wise. The Insular Life Building proves that it is equipped to meet the demands of doing business even in the digital age.
During the inauguration of the renovated Insular Building, Insular Life CEO Nina Aguas said the refurbished building has been designed to be conducive to the modern times.
"As we are on the brink of the Fourth Industrial Revolution, aside from aesthetics and function, we addressed the need for technology," Aguas said
"Information technology [IT], such as the Internet and mobile phones compel us to respond, so we imagined a space, which integrates technology with modern elegance. Aside from the touch-screen monitors and other gadgets in different areas, this building is equipped to capably handle the IT demands of 21st-century enterprises," she added.
The 14-floor building is retrofitted to handle the requirements of modern enterprises and businesses and is well-equipped with the latest equipment and facilities, hi-speed elevators, new fire alarms, and detection systems, VRF air conditioning systems, a 5-story parking building, and gen sets for back-up power. It also boasts a 260-seater multi-purpose ballroom for the most prestigious of functions. Aside from being a Grade A development, Insular Life Building Makati is also PEZA accredited.
Certified Gold LEED
Just recently, the Insular Life building in Makati has also been certified Gold by the US Green Building Council under its Leadership for Energy and Environmental Design (LEED). This means that its construction methods and materials, coupled with energy-efficient equipment make it a sustainable building. Moreover, the building and its occupants operationalize on lesser water and energy and reduce greenhouse gas emissions.
LEED is the globally recognized green building rating system in the world that accredits buildings that follow a set of standards towards a more sustainable and greener Philippines. It encourages more buildings, community, and home projects to become healthy, highly-efficient and cost-saving green estates.
Insular Life Building through the years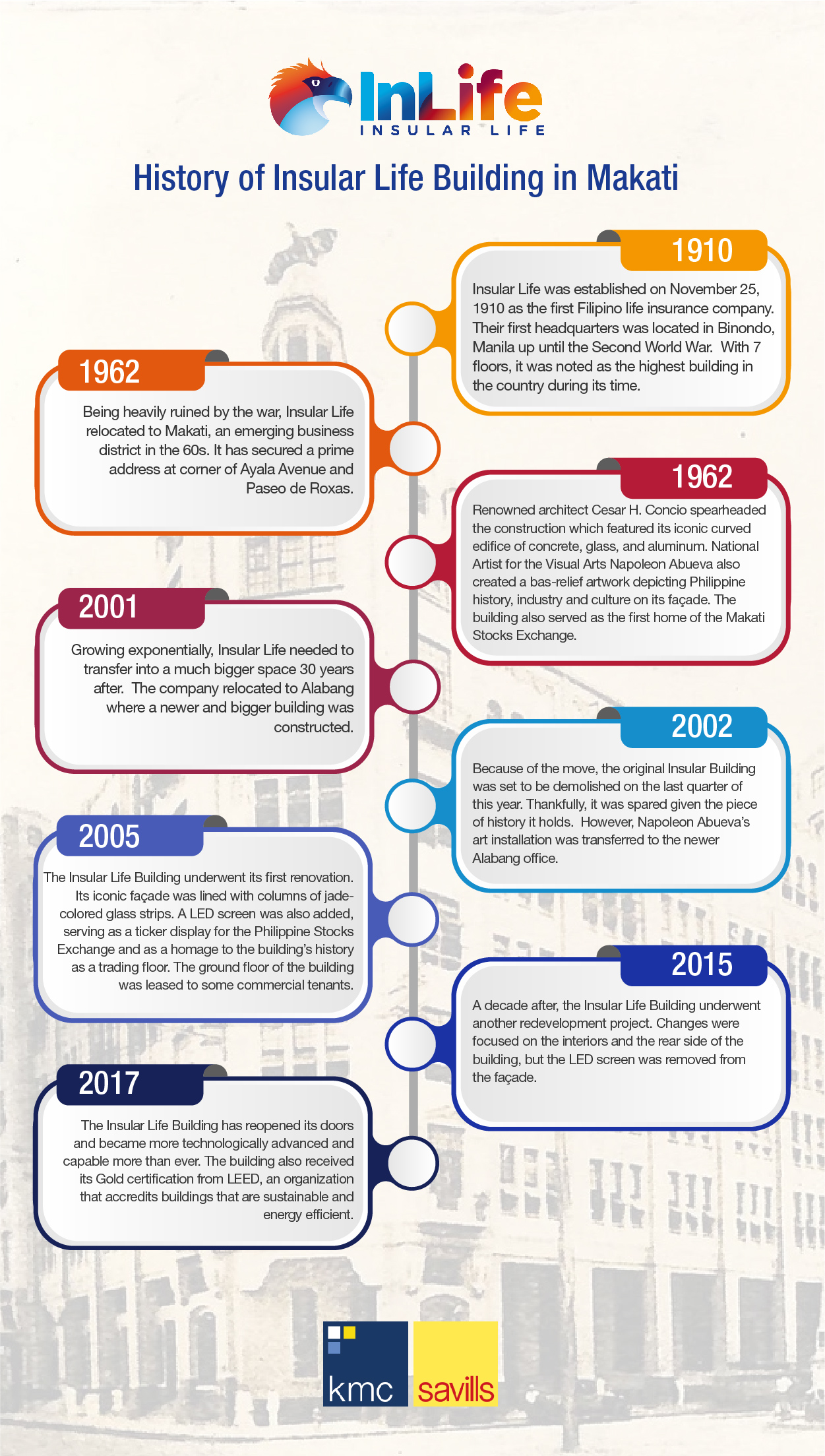 Immediately after Insular Life's headquarters has reopened its doors, all of its 25,315 sqm gross floor area up for commercial leasing has been fully occupied. Offices and commercial entities such as BPI, Tim Hortons, and Union Bank are just some of the few that wanted the prime location of the building.
Insular Life lives up to its name as one of one of the most resilient and reliable names in the Philippines, not only as a company but also through their iconic Insular Life Building in Makati.