Reading Time: minutes
The construction of JEG Tower @ One Acacia, Cebu City's newest premium green building, is right on schedule. Marking the completion of the structural construction phase of the building, the tower held its topping off ceremony last November 19, 2019, on the 22nd floor of the building.  
 
JEG Development Corporation (JDC) executives, representatives from Casas Architects, and family members gathered to lay the final brick on the podium and mark an important milestone. The 22-storey tower will don as a landmark to celebrate their family's legacy and promote sustainability through green real estate in Cebu. Executives from KMC, its sole leasing agency, were also present in the event.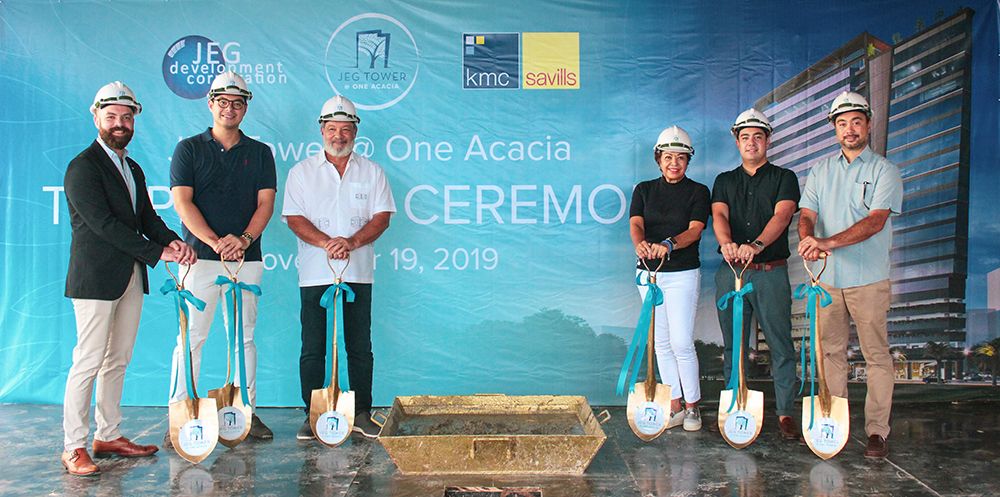 "Topping off is important for any development since it signifies a major accomplishment in the overall completion of the project," Marko Sarmiento, JDC's Chief Operating Officer, said. "The superstructure is the most vital component in any building and to reach this point only means that we're close to the finish line." 
JEG Tower @ One Acacia is more than just an additional gem to the Cebu City skyline. Designed by Casas Architects, it follows a sophisticated design without compromising its sustainable features. It will utilize and operationalize using less water, energy, and emit fewer greenhouse gases.  
JDC's first high rise commercial venture is one of Cebu's pioneers in raising the bar in the quality of premium commercial spaces in the region which will not only benefit its tenants' operational costs but also uplift the working conditions of their employees. It utilizes top of the line technology such as Daikin VRV air conditioning systems and Mitsubishi DOAS elevators that organize their lifts to be the most time saving for office users.  
Through JEG Tower, JDC promotes the walkability of the business district by providing communal showers in the parking area. This unique amenity will not only encourage tenants to get a workout in but also contribute lesser carbon emissions to the environment. 
"What we are also excited about is the rooftop garden, which we are sure our future tenants will appreciate as well," Ayla Gomez, JDC's Brand Manager shares. "It is a great area for events and is a perfect green space that we need for a quick afternoon respite overlooking the sea and the mountains to fuel and inspire the rest of the workday," she added. 
 
These energy-saving measures also mean a good investment for the tenants, in terms of saving money on reduced utility bills. It also promotes improved productivity of their workforce, which study after study has been shown to be increased in green buildings. JEG Tower is also one of the few LEED-certified buildings in the metropolis and is currently pre-certified LEED Silver.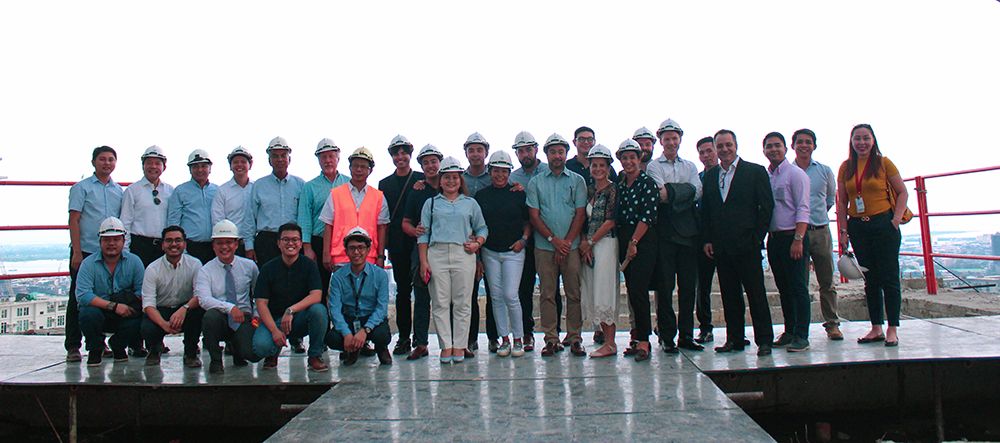 "As the building is getting closer to turn over, locals can look forward to now having the option to choose better work environments for their companies and most especially for the people that work for them," Gomez said. "The city will have a grade A building that fosters community and the work-life balance that every Cebuano deserves." 
Leading to its launch and turnover in 2020, JDC is looking to achieve Gold certification.  
"Now that the superstructure is completed, all hands are on deck in finishing the building," Sarmiento said. "The installation of our elevators, as well as the completion of our facade, are two of the more crucial activities that we have to pay close attention to next. We also intend to energize the building by January of 2020." 
Once completed, JEG Tower @ One Acacia will also serve as JDC's headquarters and home base.  
"JEG Development Company has placed a lot of resources to build the best workspace in the city, Stefan Garcia, JDC's estate and business development manager said. "JEG Tower is one of a new crop of office developments in Cebu that are raising the standards of buildings in our city." 
 View post on JEG Tower website.