Reading Time: minutes
Manta Equities, Inc. has formally partnered with leading real estate firm, KMC Savills, Inc. for the leasing requirements of their new premier office development, Manta Corporate Plaza. The Grade A office addition will be the first corporate office to rise in the newest central business and lifestyle district, Arca South, Taguig. 
KMC Managing Director Michael McCullough and Executive Director for Landlord Representation Melo Porciuncula led the contract signing, inking KMC's role as its sole leasing agency. Representing Manta Equities, Inc., President Patricia Riingen was also in attendance and was joined by Archion Architects, Principal Architect Dan Lichauco for the signing.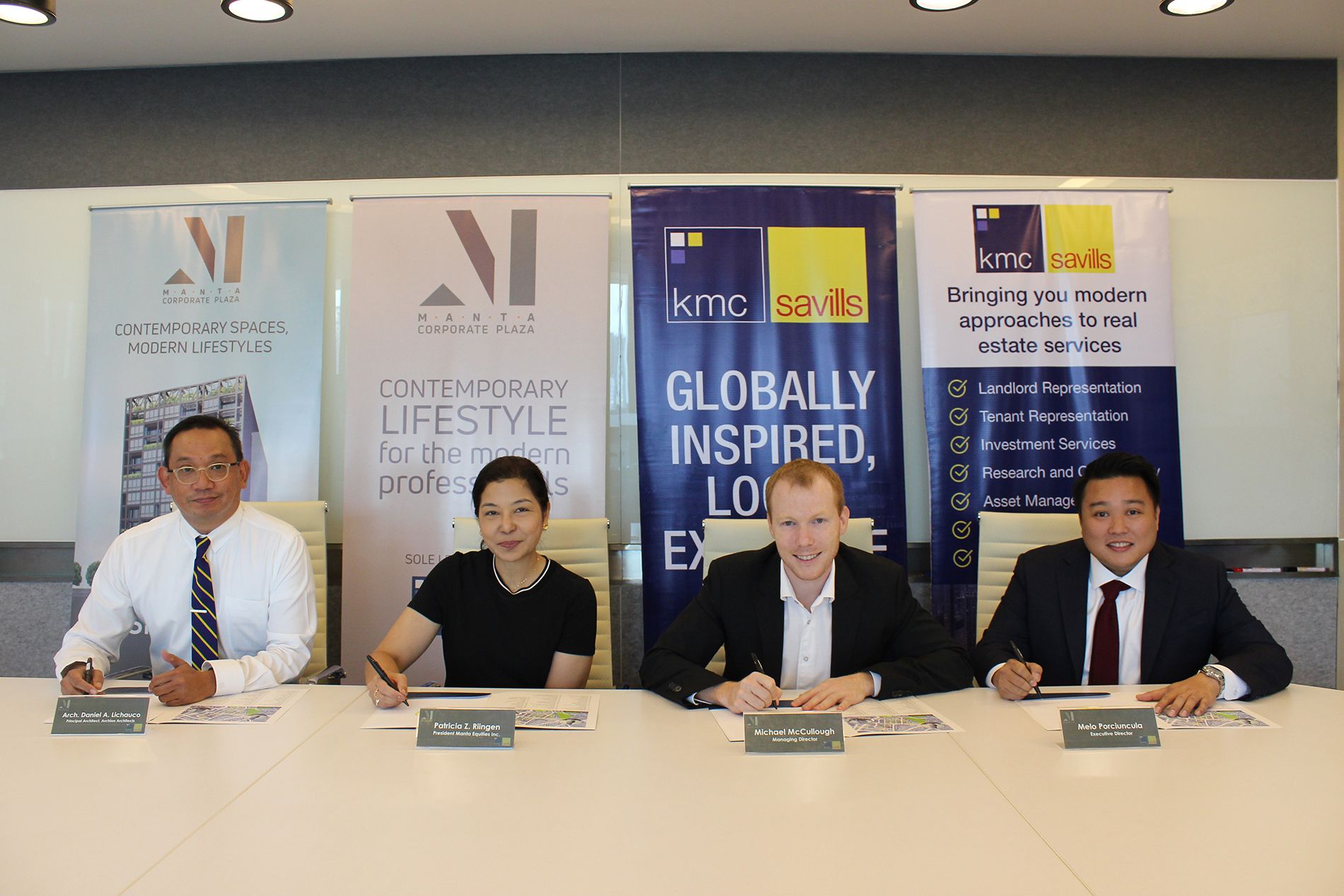 "It is really a great honor for KMC to be granted the opportunity to be the sole-leasing agency of a pioneering office building like Manta Corporate Plaza," McCullough said after the signing is completed.  
The Landlord Representation team, composed of Senior Manager Christopher Ting, Assistant Manager Mariel Opto, and Senior Associate Matthew Brimo, all expressed their positive forecast about Manta Corporate Plaza's substantial role in adding to the total supply of commercial spaces. This will cater to the demand of leading industries and aid in the possible deficit of office supply in the coming years. 
Riingen also shared that they are confident about KMC's ability to deliver given its exemplary track record. "We are confident in partnering up with KMC, given their impressive track record.  They can definitely help us achieve our goals for Manta Corporate Plaza in Arca South," she added.  
In return, Porciuncula was quick to express his gratitude for the vote of trust from the executives of Manta Equities, Inc. "KMC has worked hard in expressing our intention to help Manta Equities achieve their vision for the project. We were really eager when we pitched for this project and that's why we are grateful to be selected to solely represent their building," he said.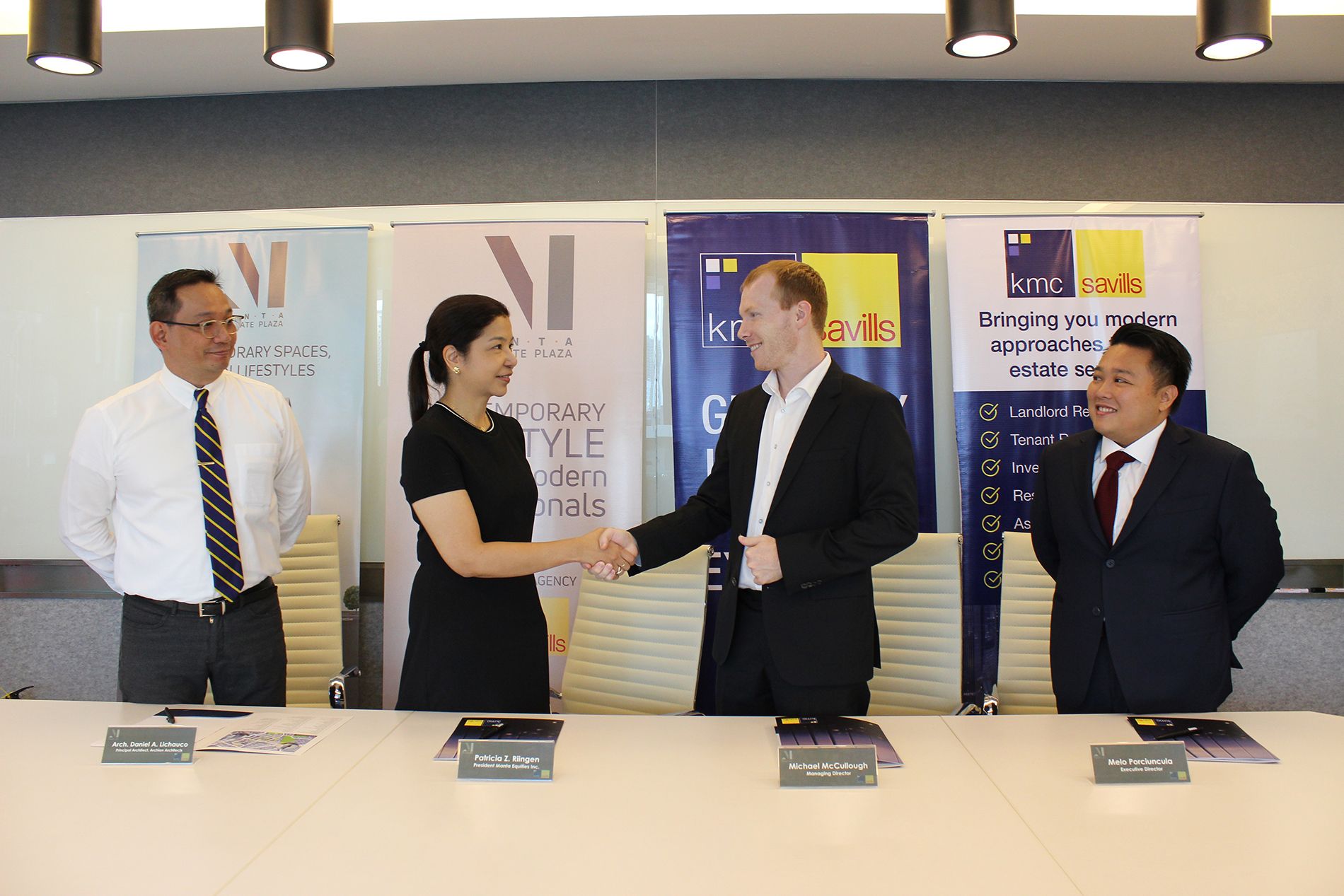 Manta Corporate Plaza will offer a total leasable area of 25,000 square meters. The 14-story building will offer spaces with a typical floor plate of approximately 1,700 square meters from the third floor to the penthouse level for office use. The first and second floor will be dedicated to retail establishments. It also comes with a 5-level basement parking to sufficiently accommodate its tenants.  
In terms of design, Archion Architects, Principal Architect Dan Lichauco explained that the structure was based on the "Bahay na Bato", a modern adaptation of Filipino Architecture. Its landscaped protruding balconies are designed as stress relieving spaces in the building that will allow people to take breaks. These spaces will include the Ventanillas for the floor to ceiling class.    
It will be a building that will stand out in the wall of structures and become the focal point of the township. 
"Manta Corporate Plaza is our brainchild and we are proud that it's going to be the first Modern Filipino Triple-A corporate office building in Arca South," Lichauco added.  
The first pouring ceremony for the building was held last June 6, 2019.  The building is expected to be completed within Q1 2021. Developed by Ayala Land, Arca South is the newest central business and lifestyle district in between NAIA, Makati City, and Bonifacio Global City.