Reading Time: minutes
Megaworld supplies the majority of office developments in 2018. The company strengthened its position as it effectively controlled office space leasing nationwide. The developer is forecasted to expand its portfolio by 1.5 million square meters of gross leasable area by 2020.
2018 Metro Manila Office Market Summary
Metro Manila saw 746,900 sq m of new Grade A office completions in 2018 - roughly the same amount recorded in 2017. Net absorption was significantly higher last year at 701,100 sq m compared to 615,200 sq m recorded in 2017. As such, overall vacancies were kept at just 4.8% of stock and is slightly higher than the 4.5% vacancy rate the previous year. 
Rents in the capital have accelerated further, hitting 5.0% YoY in 4Q/2018. The tight conditions coupled with contract expirations have propped higher bids in Makati CBD while subsequently pushing up rents in the premier district. In addition, rents in BGC are still on the uptrend as the strong outsourcing and offshoring (O&O) demand raised rentals further during the quarter.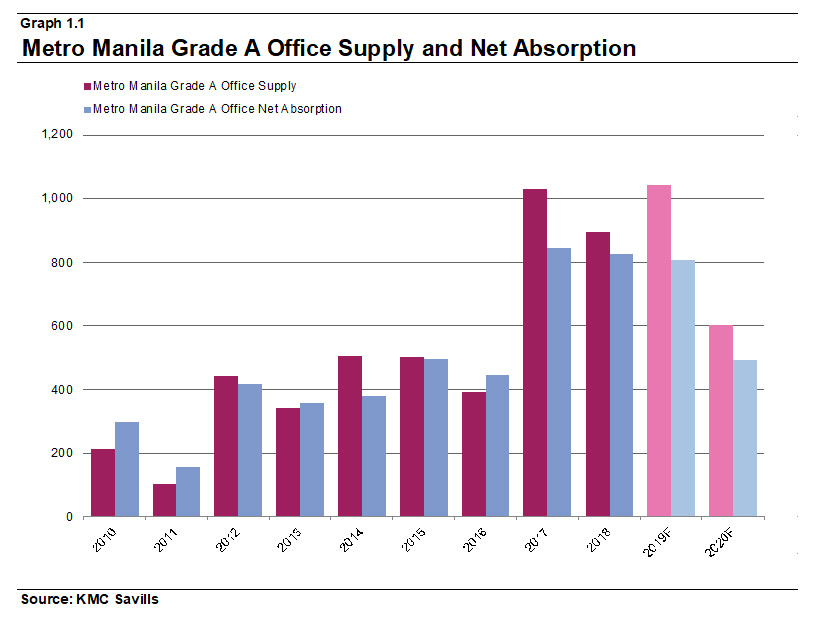 Quezon City received more than half of new supply in 4Q/2018 which raised its vacancy rate to a ten-year high of 16.4% as occupier demand remained sluggish. This has dragged Metro Manila's performance during the quarter and may pull the office market further in the coming quarters. It has been a key outlier since 2016, failing to follow other submarkets such as the Bay Area and Alabang which have reversed its course since then.
In the coming quarters, our eyes are on Ortigas Center which is expected to see 206,000 sq m of new Grade A office stock. We anticipate that occupier demand in the CBD will struggle with the influx of office supply as it will consequently raise total vacancies. However, we also forecast a significant acceleration in rents in Ortigas Center as new supply improves the quality of its overall stock.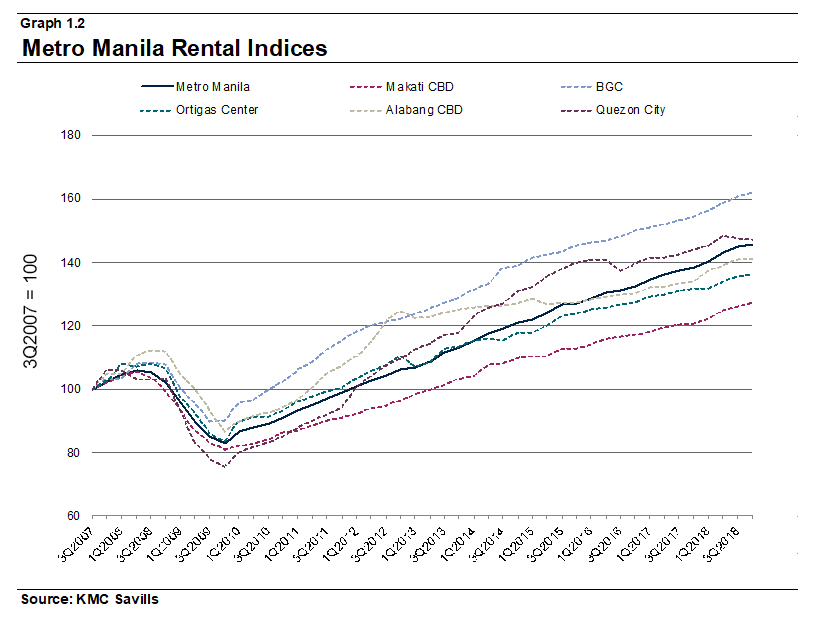 Largest Philippine Office Landlords
With the Metro Manila office market's good start in 2018, developers are poised to further expand their office portfolios. The country's top four developers - Ayala Land, Megaworld, SM Prime Holdings, Robinsons Land - spent a total of Php 273.0 billion for capital expenditures last 2018. We estimate that close to a tenth of this amount has been disbursed for office development alone.
At the end of 2017, the Big Four had a total of 3.1 million sq m of office GLA and earning as much as Php 19.9 billion of leasing revenue during the same period. Megaworld leads the country's top developers, in terms of effectively controlled office space nationwide. In comparison, Ayala Land has a comparable office stock when consolidated with its various subsidiaries and associates. However, due to varying ownership structure, the premier developer has a diluted economic interest over their consolidated office portfolio1.
These developers have cornered a significant share of the office market due to their strategy of developing mixed-use townships in Metro Manila and in the provinces. Both players are expected to expand their portfolio to as much as 2.6 million sq m of GLA by 2020 - with Megaworld taking the clear lead with 1.5 million sq m. In total, the Big Four is forecasted to complete an unprecedented office stock of 4.3 million sq m of GLA by 2020, or a 14.3% CAGR over 2017 to 2020. This is a slight deceleration from their past performance of 15.9% CAGR over 2010 to 2017. During this period, Megaworld and Ayala Land more than doubled their office stock.
Given the success of the township model for Megaworld and Ayala Land, the country's top mall developers have already followed suit. Currently, Robinsons Land is developing its biggest township in Metro Manila. Its 30-hectare Bridgetowne project in the C5 Corridor already houses two office buildings with two more in the pipeline. On the other hand, SM Prime has pushed on developing its Mall of Asia Complex with four Grade A office buildings completed already. It has followed the same model in its provincial malls as well with office buildings in Clark and Baguio City.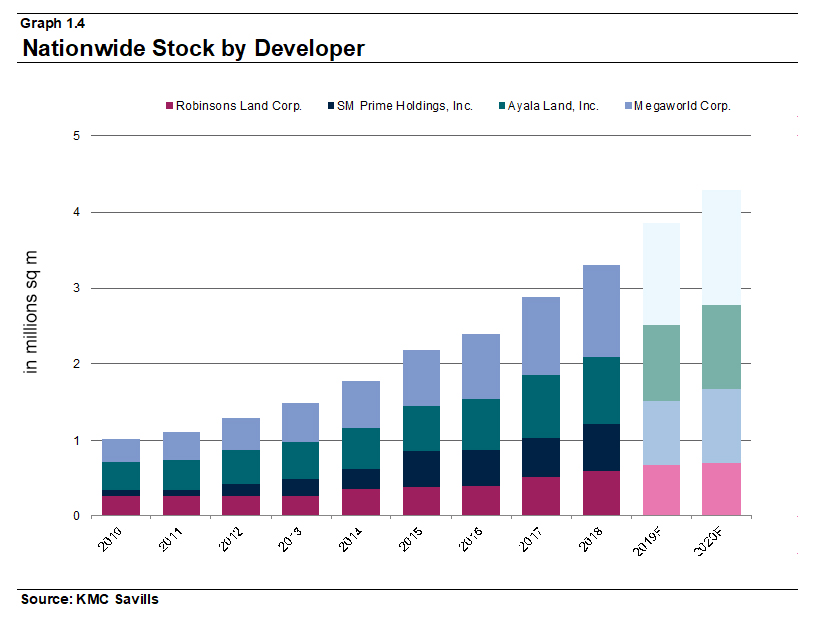 However, we still expect Megaworld and Ayala Land to lead all other players in the office leasing market in the coming years. In addition, demand for office space is still projected to be sustained given the additional boost from the POGO sector. With bright prospects for the sector, we forecast a few players to join the race, such as Filinvest. The developer already has an established estate in Alabang and is setting up another one in Clark. Although the Big Four will still dominate a significant chunk of the market, we anticipate an increase in competition in the next decade.
Expansion to the Key Provincial Cities
The country's two top developers are expected to secure their leadership with their expansion to the countryside. Ayala Land, through its subsidiary Cebu Holdings, Inc., began its foray into the south with its initial investment in Cebu City. Currently, it has two established townships in the city - Cebu Business Park and Cebu IT Park. These townships house around 70% of Cebu's Grade A office stock.
Despite entering the Visayas market a few years late, Megaworld has expanded its portfolio to 322,900 sq m at the end of 2018. Through large land acquisitions, it has set up thriving mixed-use townships in Mactan and Iloilo. Iloilo Business Park has been a key success with already around 42,000 sq m of office stock completed and fully occupied. By 2020, Megaworld's provincial office stock is expected to reach 438,500 sq m with 123,500 sq m expected to be completed in Iloilo Business Park alone.
However, both companies are still expanding with several new townships launched in recent years. Ayala Land has been aggressive in Luzon with new estates, such as Alviera, Evo City and Vermosa. Megaworld, on the other hand, has had a diverse approach with new townships in Bacolod (The Upper East), Pampanga (Capital Town) and Cavite (Maple Grove). These new townships are expected to house the new set of office buildings for the maturing O&O sector. In addition, it is now clear the direction of office development is towards key provincial cities.
The effective gross leasable area (GLA) was measured using the economic interest of each property developer on their respective building as basis. Whereas every effort has been made to ensure its accuracy, KMC Savills accepts no liability whatsoever for any direct or consequential loss arising. This report is strictly copyright and reproduction of the whole or part of it in any form is prohibited without written permission from KMC Savills. The views expressed in this report accurately reflect the analyst's personal views about any and all the information associated in this report. No part of the authoring analyst's compensation was, is or will be, directly or indirectly, related to the specific views expressed in the report.