Reading Time: minutes
As the idea of a workplace and business districts continues to evolve, more key business locations strive to integrate work and life balance for their employees. While Mandaue City may be a relatively new key location in Cebu for mixed-use developments, Oakridge Business Park has long been weaving a community where work and play coexist.

Developed by Cebu-grown Oakridge Realty Development Corporation, this 4-hectare property is home to a mixture of lifestyle spaces and commercial and office units. Seamlessly merging business and lifestyle, Oakridge Business Park is a sanctuary within Mandaue City that is the go-to for open spaces, diverse dining and lifestyle destinations, event venues, and business opportunities.
Oakridge Business Park is a masterfully planned development community allowing progressive-minded businesses to thrive in an environment that values a dynamic balance between work and leisure. Envisioned to be an oasis for business and recreation in a bustling metropolis, this development is a curation of modern architecture, perfectly complemented by landscaped open areas.

Future forward planning
The buildings and spaces inside the business park are designed and developed to supplement each other. Office and retail spaces measure approximately 40,000 square meters in leasable space. In total, 6 buildings host offices and retail establishments within the business park.
Oak Tree Drive 1 and Oak Tree Drive 2
Oak Tree Drive 1 (OTD 1) and Oak Tree Drive 2  (OTD 2) are the business park's resident commercial structures for dining and retail outlets. From international brands to homegrown business options, OTD 1 and OTD 2 cater to a wide variety of shops and options. These buildings are identifiable by their contemporary façade which was inspired by earthy elements such as wood and stones.
Block 88


This five-story structure is a landmark on its own, thanks to its unique geometrical shape. It offers over 4,000 square meters of office and commercial spaces occupied by notable names in the fitness and wellness sector and produce industry.
Oakridge IT Center 1, 2, 3
These PEZA accredited office buildings are one of the most ideal locations for tech companies that are looking to expand operations in the Visayas. Offering nothing but the latest available technology, OITC 1, 2, and 3 live up to its name and ORDC's commitment to excellence and providing only the best to their clients. Its amenities and building features ensure that occupants utilize the space to their advantage.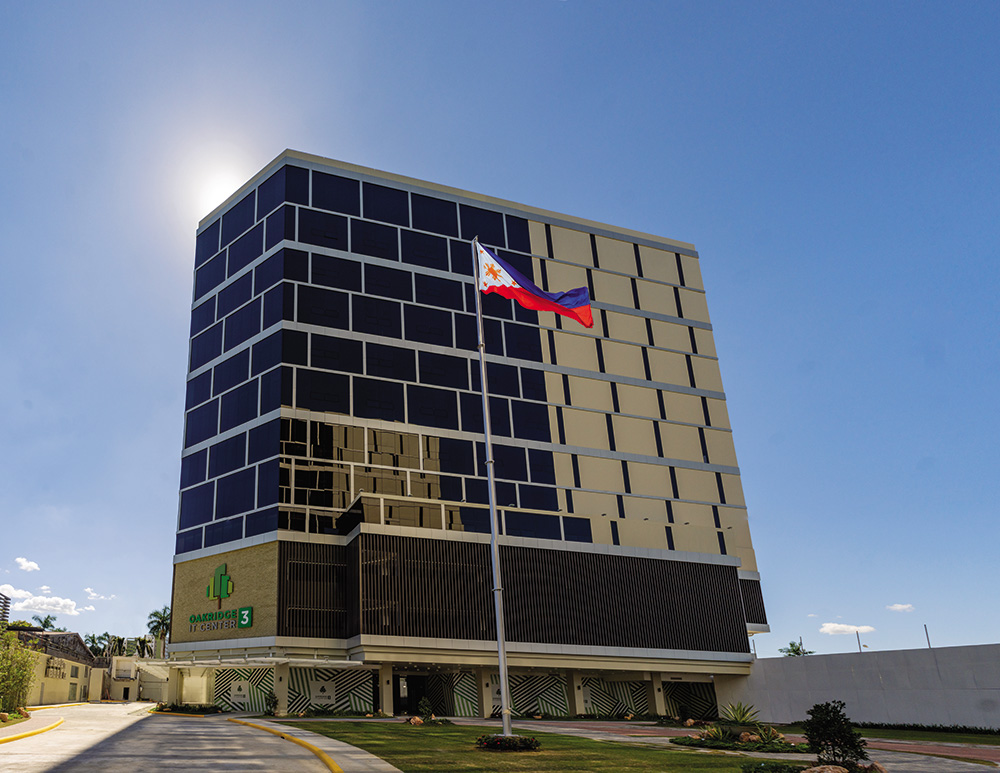 Oakridge IT Center 3 is ORDC's latest addition to Oakridge Business Park's inventory of commercial spaces. It is one of Cebu's newest Grade A buildings that features 12 floors of high-ceiling and open floor layouts. OITC 3 is fully equipped with top-of-the-line fixtures, amenities, and systems.
Venue for Lifestyle Events
To complement all these commercial venues, Oakridge Business Park also offers ideal venues for gatherings and celebrations. These structures give an opportunity for business locators inside the business park to thrive holistically without the need to go out of the community.

Oakridge Horizons and Oakridge Pavilion
Oakridge Horizons and Oakridge Pavilion are two of Mandaue City's premier event venues which are known for its luxurious ambiance and elegant architecture. The former is located in a penthouse, offering a panoramic view of the city skyline. Meanwhile, the Oakridge Pavilion is a more versatile event or function venue, which can host a wide range of events and celebrations.
Oakridge Executive Club is a premier business lounge that goes beyond "business as usual". Located on the 12F of the OITC 2 with a sweeping view of the city, this is where park tenants entertain their guests in comfort, convenience and class, complete with a dedicated concierge staff to assist and attend to their needs.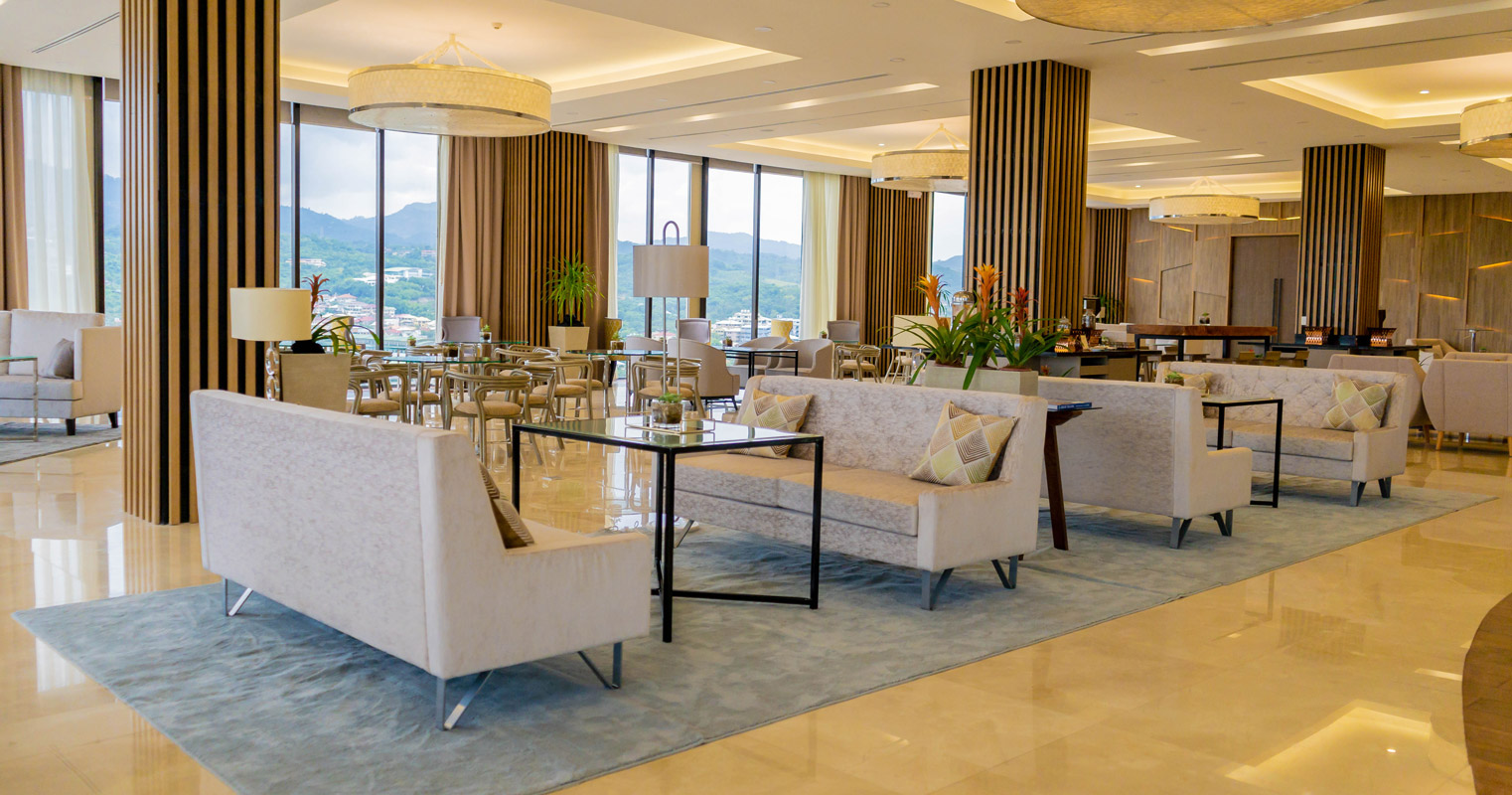 Cultivating a close-knit community
With the same vision of a well-balanced community, companies that occupy the business park also uplift the goal of intimate work and play community
Location and Amenities
Nestled along AS Fortuna and Banilad, Oakridge Business Park is one of the most prime locations for business and recreation. Within its vicinity are major residential areas, churches, schools, business districts. It is also very accessible from ferry terminals and the Mactan-Cebu International Airport.
Its amenities include:
24/7 security and 100% emergency power supply system
Fire detection and alarm system
Closed-circuit TV for security monitoring
Sewage treatment facility
WIFI access
State of the art parking system
Common M/F restroom at every floor
Materials recovery facility
Landscaped open garden plaza