Reading Time: minutes
Oakridge Realty Development Corp. (ORDC) has tapped KMC as one of its full-service real estate partners for their new office developments.
Oakridge Director for Sales and Operations, Anne Liu, officially inked the partnership with KMC Executive Director for Investor Services, Melo Porciuncula, and Landlord Representation Associate Director, Chris Ting in a signing ceremony last September 10, 2019, at the Oakridge Executive Club.
"Oakridge has chosen KMC Savills as one of its leasing partners because the company is optimistic that the latter's expertise in tenant representation will help bring in key locators to the park," Liu said about the partnership.
She added that Oakridge Business Park provides workspaces that promote productivity while housing an environment that inspires its tenants and their employees.
"Through KMC's energetic team, we are confident that they can bring in tenants who share the same vision of Oakridge, of providing exceptional customer service in a safe and secure environment, one that is distinctly Oakridge," Liu said.
Porciuncula likewise expressed optimism of the partnership. "We are excited to be part of the growth plans of one of the pioneering real estate developers in Cebu," he said.
"KMC definitely has big plans for Oakridge, not only in terms of leasing but also in helping promote their unique brand as a strategic developer in Cebu," Porciuncula added.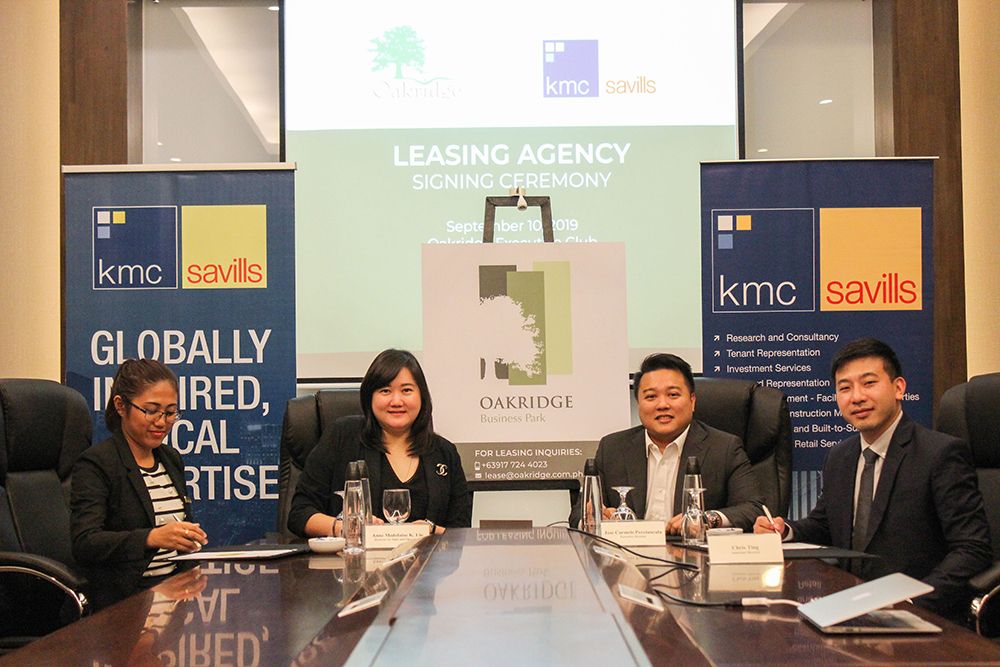 Oakridge recently launched its Oakridge IT Center 3, a 12-storey Grade A office building located inside Oakridge Business Park. This new development adds another 14,000 square meters of leasable space to Oakridge Business Park's inventory. With its modern design that mixes functionality with sophistication, the Oakridge IT Center 3 allows progressive-minded businesses to thrive in an environment that values a dynamic balance between work and family. Equipped with high ceiling and wide-open spaces while decked with top-of-the-line fixtures, amenities and technological systems, as well as a three-level podium parking.  It is poised to be a PEZA accredited building that will cater to both International and Domestic business owners.
Oakridge Business Park is a distinct address that seamlessly merges business and lifestyle, ideally located along A.S. Fortuna Street, Banilad, Mandaue City.  Oakridge had earned the 2018 Destination of the Year title during the Gawad Linaw Awards of the Mandaue Chamber of Commerce and Industry (MCCI).
The masterfully planned business park is a sanctuary within the city that offers diverse dining, retail and lifestyle choices as well as personalized business opportunities and event celebrations, all set in its refreshing green and open spaces that are distinctly Oakridge.
It is home to two large-scale event venues – the Oakridge Pavilion and the Oakridge Horizons – as well as the Oakridge Executive Club, Cebu's first prestigious business lounge that provides a venue for executives to conduct their meetings in "comfort, convenience, and class" without having to leave the business park.