As the world continuously adapts to the changes brought by the pandemic, the focus is shifted to disease prevention and ensuring public health in common spaces. According to Erin Bromage, a professor of Biology at the University of Massachusetts-Dartmouth, any environment that is enclosed with poor air circulation and a high density of people can cause disasters when it comes to disease spread and possible outbreak. "Indoor spaces, with limited air exchange, recycled air, and lots of people are concerning from a transmission standpoint", he noted.  
The role that the environment plays in public health and safety is re-emphasized especially in the workplace. According to the World Health Organization (WHO), health impacts that could be avoided through healthier and safer workplaces. 

"Workplace plays a vital role in the overall health of the people since we spend 1/3 of our time at work," Mac Gallegos, Senior Leasing Manager of Menarco Tower said. "Having basic and in-depth knowledge on how to avoid the spread of the virus and the implementation of safety protocols give the assurance that building occupants will not bring the virus to their families when they go back home," she added. 
Menarco Tower in Bonifacio Global City is one of the few buildings in Metro Manila to put the health and wellness of their tenants and building occupants at top priority even before the pandemic started. In fact, it is named as 'healthiest' building in Southeast Asia.  
Staying true to their vision of putting the welfare of people first, the 32-storey building remains to be the only LEED and WELL certified corporate tower in the Philippines and in the whole region and with both certifications at the Gold level.  
"There are many factors inside the workplace that can contribute to ensuring public health," Samantha Allen, an expert on sustainability and buildings noted in a webinar. "Specifically, buildings should optimize ventilation systems, water quality, visual and lighting, and maintenance."  
Ventilation  
Carmen Jimenez-Ong, Founder and CEO of Menarco Development Corporation, shared that they are investing in state-of-the-art technology to adapt to the requirements of an ideal work environment, health-wise.  
Allen noted that since it serves as the lungs of the building, the ventilation system should have fresh air intake and a reliable filtration system to reduce the use of recycled air within the vicinity of the building. Jimenez-Ong shared that the tower's air filtration system utilizes the MERV (Minimum Efficiency Reporting Value) 13 filter. In general, filters with a higher MERV rating catch higher percentages of particles as well as smaller particles in the air.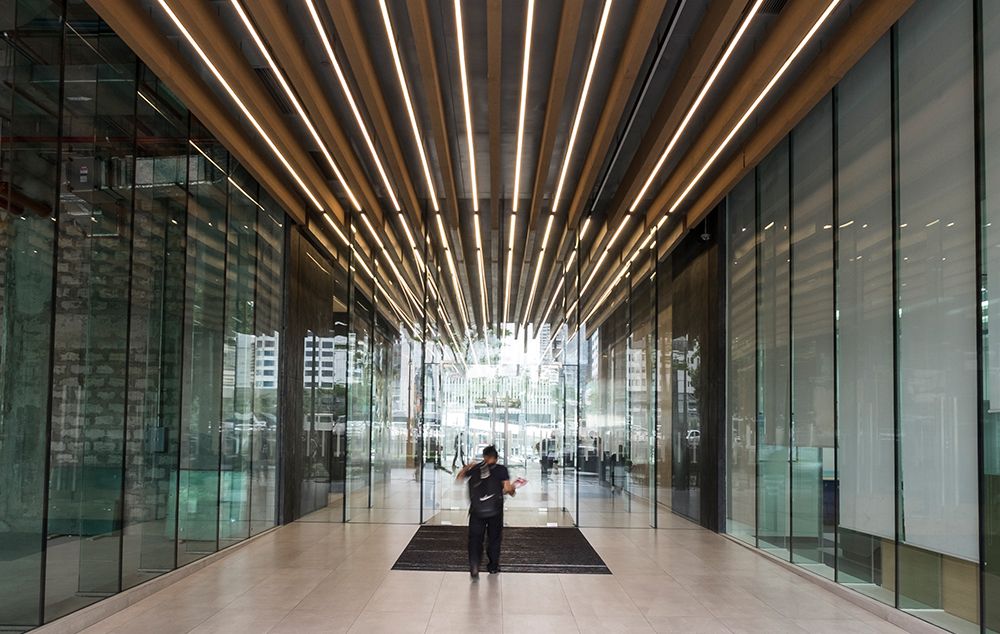 "We can proudly claim that our indoor air quality is superior—similar to that of an international hospital," she noted.  
Gallegos also takes pride in the tower's air filtration system. "We help safeguard our building's occupants by continuously introducing fresh, pre-filtered air into the building. MERV 13 filters are fine enough to filter bacteria and sneeze droplets," she said. 
RELATED: Breathing life into real estate- How Menarco Tower's WELL certification stood out during times of calamity  
More than its industrial-grade filtration system, Menarco is also grounded on other concepts under its WELL Certification. All these other facets of a healthy workplace are beneficial for the building's occupants on a day to day basis, but during times like this, more people realize the importance and advantages of a WELL-certified establishment.  
Allen also emphasized the importance of ensuring high water quality and providing ideal lighting in ensuring indoor public health employees and building tenants.  
Water Quality  
According to the Centers for Disease Control and Prevention, ensuring the highest water quality in the workplace should be one of the most important facets of ensuring public health inside commercial establishments and office buildings.  
"Exposure to a range of contaminants in water can result in negative health impacts including the spread of infectious disease," Ong said. "We also conduct water flush to remove sediments and have local water filters installed. We also provide drinking stations and water dispensers in office spaces."  
Natural Lighting  
Studies show that providing indoor access to daylight can positively influence employees inside their work environment. Menarco Tower is designed to allow maximum natural light inside office spaces.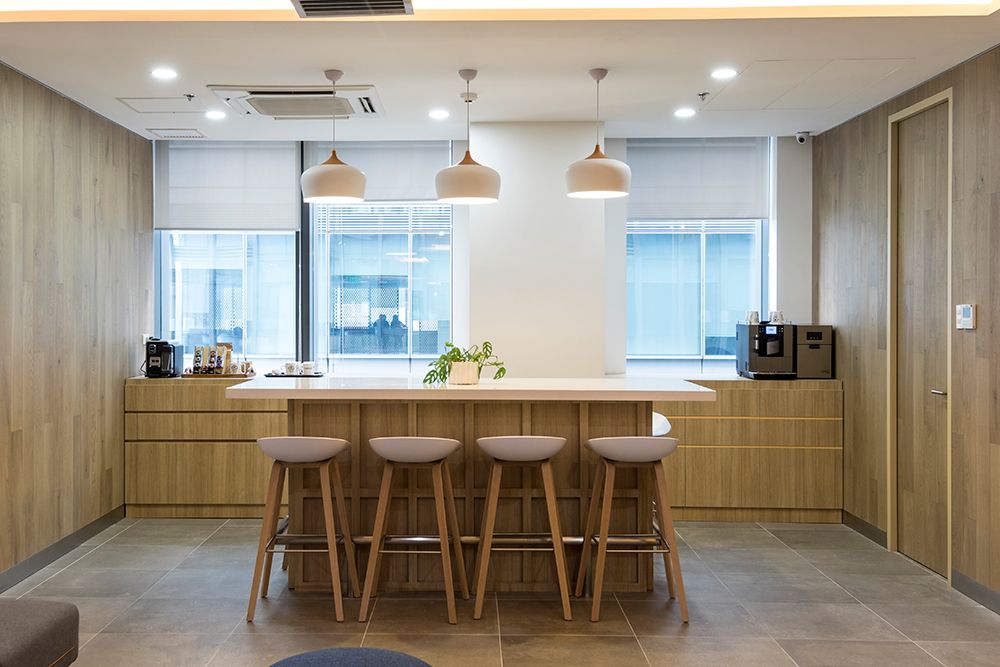 Riza Perez, Menarco's Procurement/WELL & LEED Sustainability Manager, also emphasized the importance of natural light on the employees' health and wellbeing. "Providing users with daylight in a space provides visual, emotional, and physiological benefits," she shared. "Daylight contributes to light levels, thus helping with the performance of visual tasks in a space, while exposure to daylight has been proven to have positive impacts on mood and is an integral requirement for circadian rhythm alignment."  
Maintenance and Cleaning  
Menarco Tower also employs industry-standard maintenance measures to ensure cleanliness within workspaces. Centers for Occupational Health and Safety reiterates the importance of frequent sanitation and disinfection of surfaces and areas inside the workplace.  
"Our property management team has intensified its cleaning protocols of high-touch surfaces, such as elevator buttons and door handles, and common or public areas," Gallegos confirmed. "From the start of its operations, the Tower has been using Green Seal certified cleaning agents. Green Seal certification assures us that there is a reduced risk of harmful chemicals in the commercial cleaning products being applied."  
Holistic Approach to Health and Wellbeing  
More than providing the best and safest work environment, Menarco Tower also advocates for continuous awareness and access to health-promotion strategies and resources. The developer also pays great importance to nutrition, physical health, and mental health. Tenants of the Menarco Tower have access to freshly-cooked home meals and healthy alternatives to promote mindful eating, "nudging employees toward healthier choices."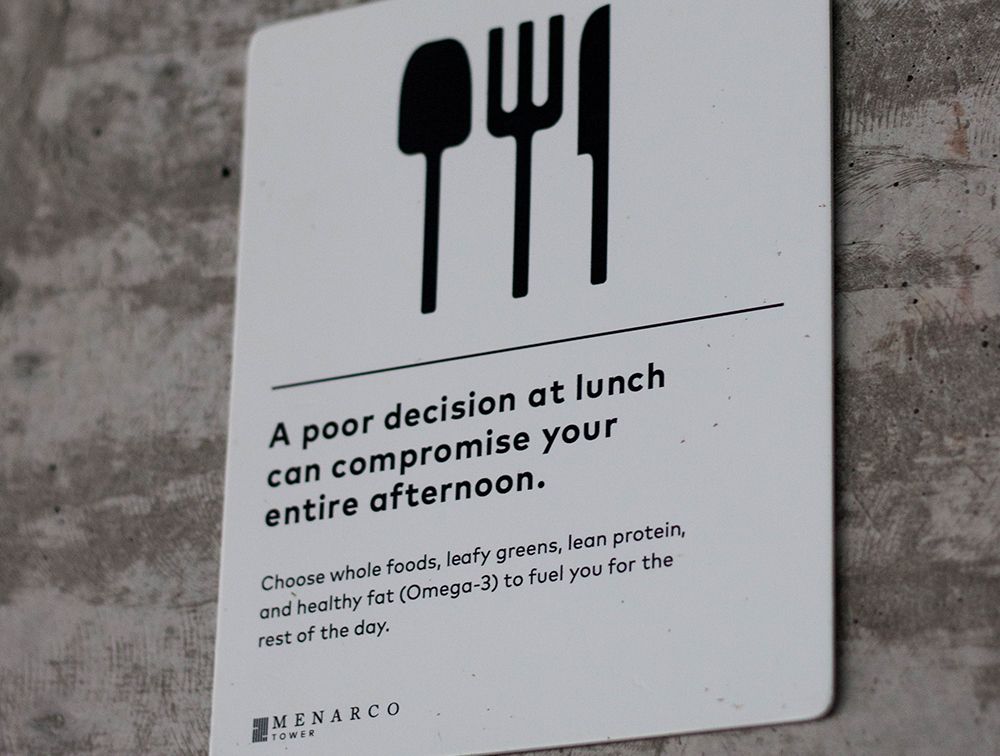 "Applying a holistic approach to promoting wellness will cultivate healthy habits and resilience," Perez said. "This approach will result in a healthier immune system that will help the body naturally fight infections while reducing co-morbidities associated with greater risks."  
Menarco also has designated wellness floors and relaxation areas that harness the physical and mental health of their building occupants. "As a human-centric space, Menarco Tower fosters the community spirit through programs that not only provide a social outlet but also to give mental support to its community members," Gallegos noted.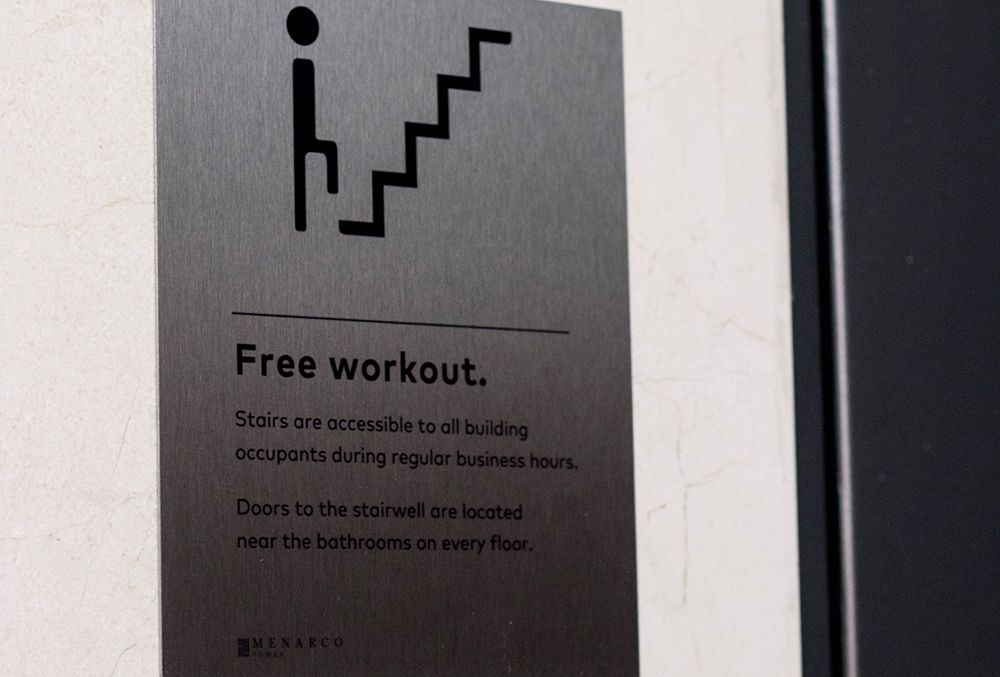 Investing in the health and wellness of people is one of the most valuable assets of the Menarco Tower. Even before the start of the pandemic, the tower has given premium to the health of their occupants, continuously modifying technologies to protect their safety. Now that majority of commercial establishments will be implementing these changes post-pandemic, Menarco remains to be one of the frontrunners in the Philippines for advocating health, wellness, and safety of building occupants with or without the threat of another outbreak.