Left to Right: Robert De Bustos, Assistant Manager- Transaction & Advisory (KMC Savills Inc.), Ammie Pe, VP of Sales & Admin (TDC), Mary Ann Sy, VP Leasing (TDC), Carbert Thompson Ching, Executive Vice President (TDC), Andy Gomez, Executive Director – Occupier Services (KMC Savills Inc.), Melissa Co., Sales & Leasing Manager (TDC) Ervin Llobrera, Sales & Leasing Coordinator (TDC) and Ria Soliman, Manager – Occupier Services (KMC Savills, Inc.).
KMC Savills Inc., an award-winning full-service real estate firm that provides real estate solutions for local and multinational businesses, has been appointed as the exclusive leasing agent for Trium Square in Pasay City.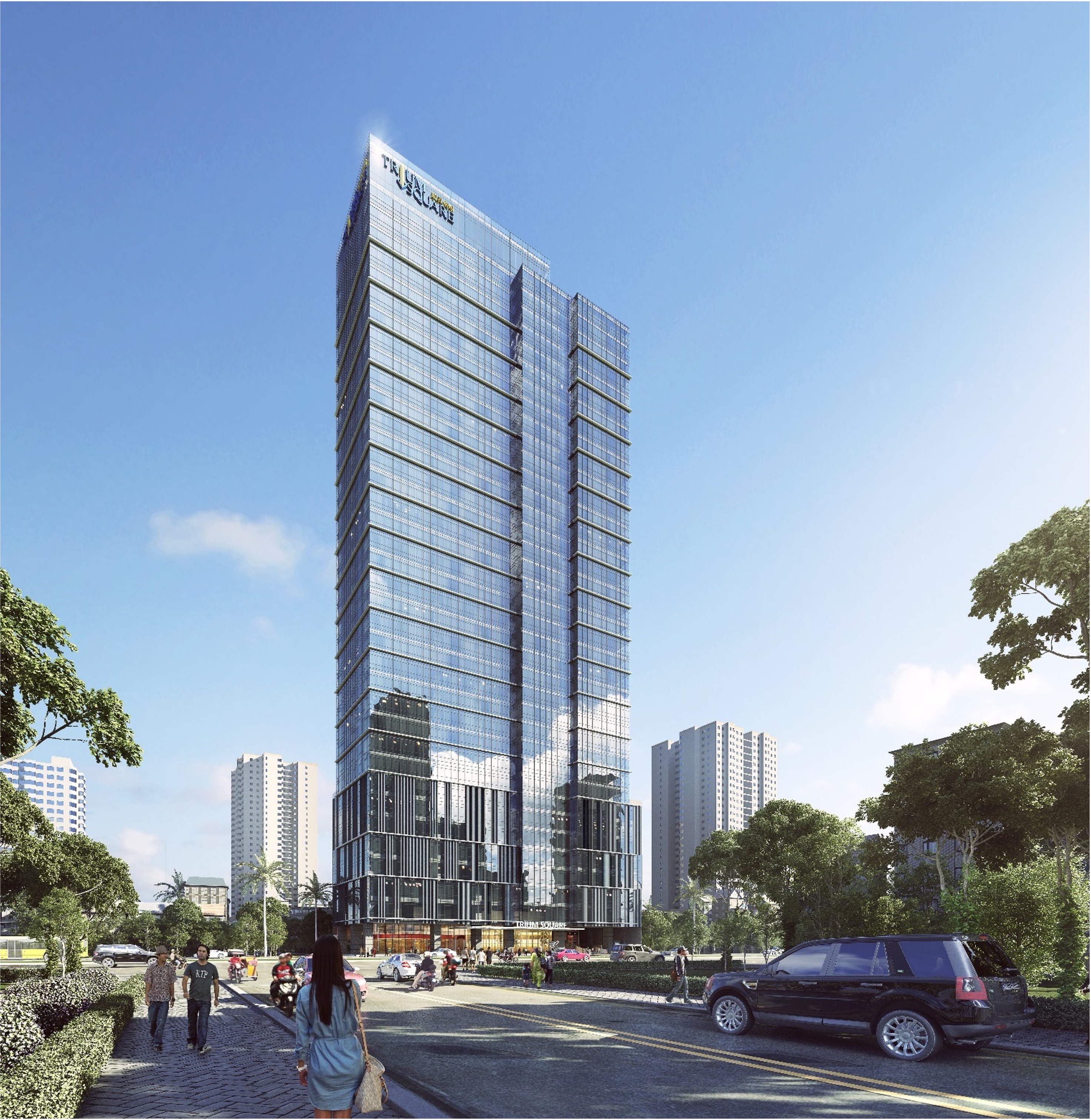 Last October 8, Triumvirate Development Corporation held the official topping off ceremony of its latest development, Trium Square. The building is targeted for completion by 2Q of 2023 and is set to be the next iconic building in the city. 
Trium Square is a premium commercial building set in the gateway of Pasay's central business district.  
This 43-storey commercial development offers Grade A quality office floors. Each floor has an area of 2,300-2,400 sq m to cater to a wide range of occupiers, providing the tenants with the flexibility in creating a positive workplace environment for their employees. 
This stand-out high-rise establishment is enveloped by a double-glazed glass curtain wall and crowned by a roof deck open to tenants and visitors. Trium Square is a modern work of commercial real estate art designed for a first-class business experience, providing tenants with top-of-the-line amenities and infrastructure to be the ultimate business hub in the heart of the Metro.  
Location & Accessibility
Trium Square is centrally located in Pasay City along Sen. Gil Puyat Avenue and is surrounded by strong support facilities, emergency services, and fast-paced economic activity. The premium office development is just a stone's throw away from the LRT station at the intersection of Sen. Gil Puyat and Taft Avenue. Due to its strategic location, Trium Square has direct access to the major thoroughfares connecting Pasay City to its neighboring Central Business Districts which is further supported by the availability of all modes of transportation.  
Leading the growth and commerce in the district, Trium Square's location offers not only unrivaled accessibility, but also encourages high productivity levels as tenants enjoy the benefits of a premium class work environment. The commercial development by Triumvirate Development Corporation is set to become the ultimate business hub in a fast-growing city. Further, the completeness of its amenities and premium features promotes business productivity and work life balance.
About Triumvirate Development Corporation
Triumvirate Development Corporation is a premier real estate company focusing on the commercial, residential, and merchandising needs of the Metro Manila market. Currently, Triumvirate Development has two upcoming developments: Trium Square in Pasay City, which is set to be completed by 2Q of 2023, and One Trium Tower in Filinvest Alabang, which is set to launch by the end of the year.   
For leasing inquiries and more information about Trium Square, you may contact KMC Savills leasing agents: Ria Soliman at (+63) 917-631-3253, Timothy Sevilla at (+63) 917-674-0044, and Robert De Bustos at (+63) 917-326-3351, or email [email protected].