The future of real estate lies in these bold minds!
KMC Savills partnered with CoreNet Global Philippines Chapter to host the "FutureForward 2025" Afterwork Presentations and Workshops. Various Real Estate brokers and corporate clients attended the event held in the KMC Solutions office in V Corporate Center.
This strategic project aims to predict and prepare the association for the corporate real estate model of the future. The participants were subdivided into four groups and tasked to come up with bold predictions based on the four workstreams: belonging, learning, convening and information & content.
The workshop was facilitated by KMC Savills Tenant Representation Executive Director Rosario Carbonell, MCR. Carbonell also shared her fearless predictions for 2025 as she emphasized the need for a "culture of non-stop learning" through having more Masters in Corporate Real Estate classes and cross-learning among chapters.
She also tackled the utilization of networking and digital means of convening through webinars and social media platforms. For Carbonell, artificial intelligence will also assist in breaking down big data, doing analytics to produce fast-paced reports and interpret summary of data.
After a lengthy discussion, each group was able to present their forecasts for their assigned workstreams. 2025 will show great potential for the Information and Content workstream. The group expects that avatars can begin attending a workshop that will move beyond physical incapacities and promote less carbon footprint.
Automation is the future given technology's enabling capabilities. However, the need for a personal single point of contact should exist between clients and brokers since most transactions require a certain level of emotional intelligence and reading of body language.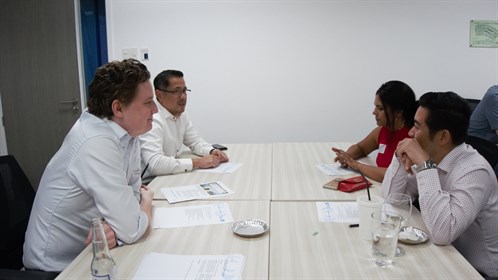 It was also predicted that the future of learning in the industry is centered on virtual learning. While face-to-face interactions will continue to play a significant role, a unified communication system can help ease the transaction and streamline the skillset and knowledge absorption.
The future of Belonging is also showing significant growth after the first MCR class was held in the Philippines. There is also great potential in making the young chapter in the Philippines grow by making it known that there are more course offerings. The brokers also suggested making Professional Regulation Commission credit the courses from CoreNet.
Convening will also be made easier through video conferencing or livestreaming. The future will move beyond cloud computing to augmented reality or virtual reality. However, issues of hacking, security and confidentiality were also raised.
To wrap up, the group decided to draw out the direction that the Corporate Real Estate industry is taking. The participants reached a consensus that it is likely that the type of real estate sold will change in the next 7 years. Factoring the change in how people work, they agreed that technology will continue to influence the industry as its main enabler.