Reading Time: minutes
The Department of Trade and Industry is aiming to make the cement industry more competitive. As a form of tax regulation, they have imposed a "provisional safeguard duty" on imported cement to avoid placing local cement producers at a disadvantage when competing with international manufacturers.
The DTI has imposed a 4.0% tariff or an additional of PHP 8.40 per 40-kg bag on the selling price to the cement importers, a safeguard measure to give the domestic players a level playing field against the importers. The duty was based on DTI's investigation which established the elements of a surge in supply which may injure the local cement industry.
According to the Cement Manufacturers' Association of the Philippines' (CeMAP), the extensive importation of affordable cement from neighboring countries can stunt the growth of the local industry. In 2017, imported cement reached more than 3 million metric tons from just 3,558 metric tons in 2013. Market share of imports grew from 0.02% in 2013 to 15% in 2017. This trend has been having an adverse effect on the domestic cement industry with manufacturers experiencing a 49% decrease in income in 2017.
The government believes that with the sudden surge in imports, there's an indication of dumping as cement imports are priced significantly lower than the domestically produced cement, which could hurt the overall local industry.
Demand driving price growth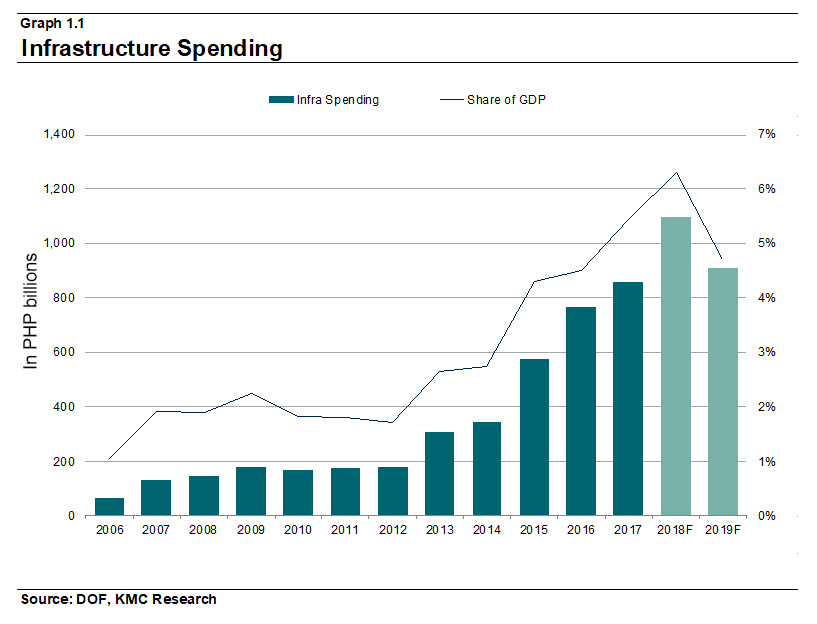 With the Build, Build, Build program in full swing, infrastructure outlays are expected to increase from 4.7% of GDP in 2019 to 7.0% in 2022. So far, 44 out of the 75 major projects are already in full swing. Infrastructure spending has reached PHP 728.1 billion in the eleven months of 2018, 49.7% higher YoY. We can expect demand to be sustained in the coming years which may put pressure on the local cement industry.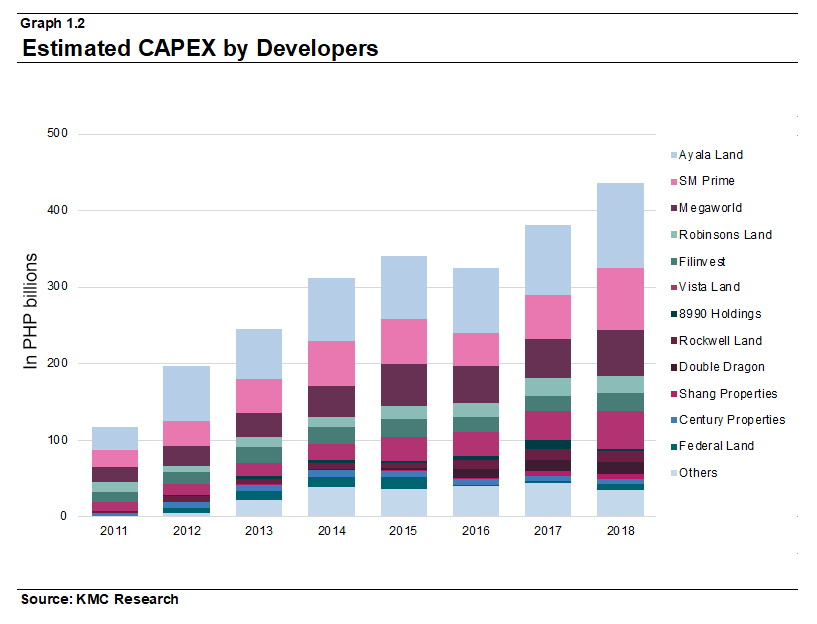 Meanwhile, expansion of real estate developers in both residential and commercial segments should also help sustain demand growth in cement consumption. Listed developers are expanding their recurring income and residential developments as they continue to earmark record levels of their capex program. In 2018, developers spent approximately PHP 434.9 billion - an increase of 14.3% YoY.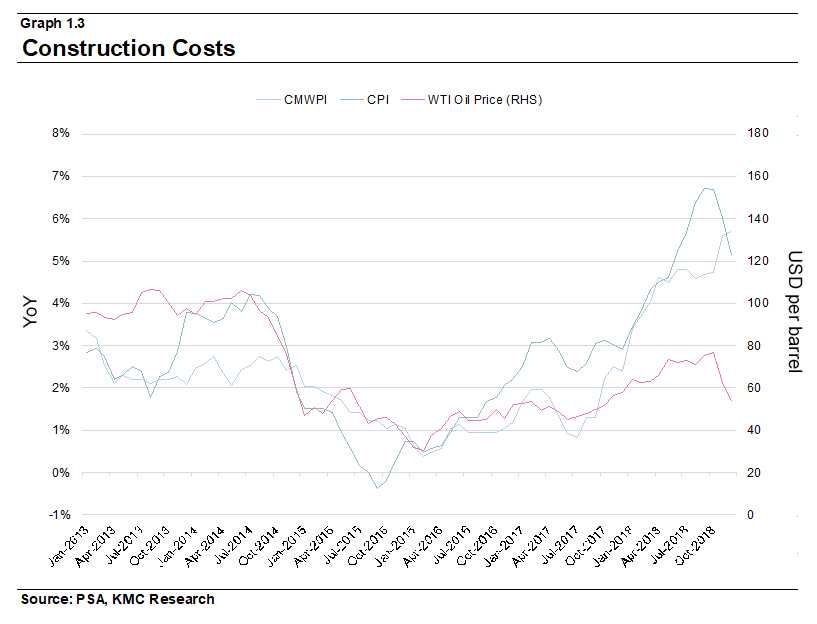 Despite imports taking a larger chunk of cement supply, data from the Philippine Statistics Authority (PSA) shows that the Construction Materials Wholesale Price Index (CMWPI) has been on the uptrend despite consumer prices easing due to cooling oil prices and a more stable foreign exchange rate. As such, this indicates higher demand is causing the rise in cement prices. We note a faster growth of the CMWPI in 4Q/2018 was driven by the surge in construction spending which totaled PHP 1,358.8 billion, or 21.7% higher YoY compared to 7.9% YoY in 2017.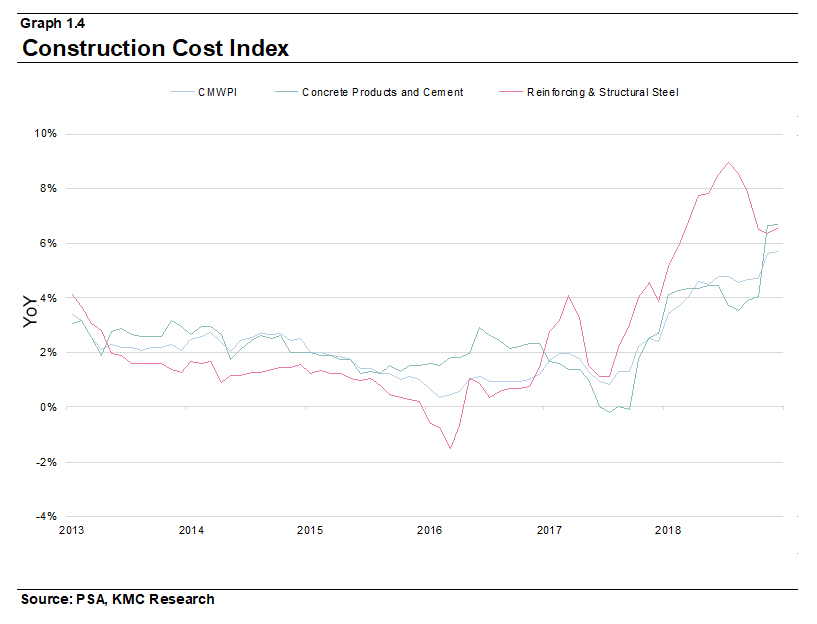 Real estate sector can absorb costs in the short-run
With construction costs increasing, we expect the real estate sector to absorb it with ease in the short run. High-end residential prices in Metro Manila are in a rebound with 4Q/2018 prices improving by 9.3% YoY compared to 8.2% YoY in 4Q/2017. Absorption rates for high-end residential units are still high with limited new launches in the pipeline.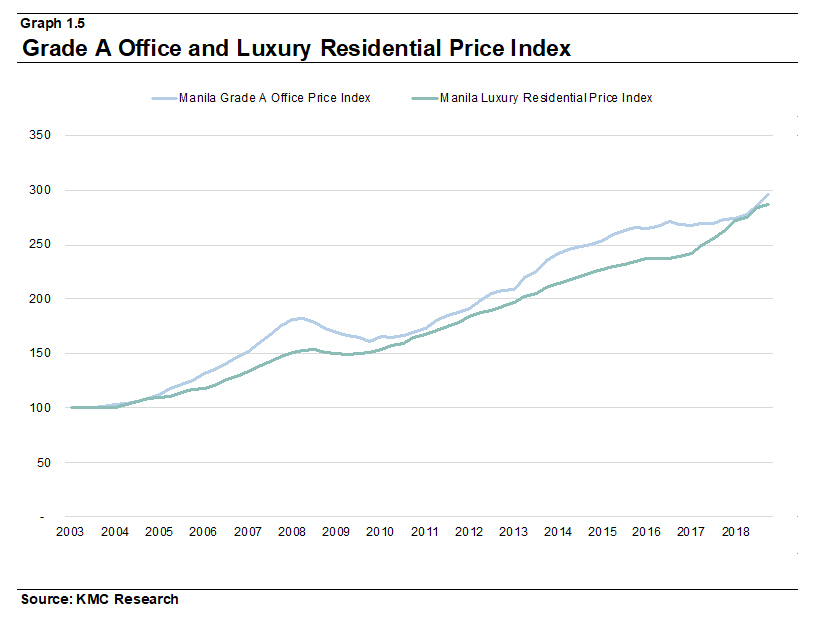 In addition, office rents are also expected to accelerate this 2019 after registering average rental growth of 5.0% YoY in 2018. The tight vacancies in key submarkets, such as Makati CBD, BGC, and the Bay Area, have driven overall rental growth in the capital. The rise of the Philippine Offshore Gaming Sector (POGO) and the sustained demand from the offshoring and outsourcing (O&O) sector have buoyed the office sector in the past three years.
Headline inflation has eased at the start of the year, and the Bangko Sentral ng Pilipinas (BSP) has indicated that this has given them some headroom to ease interest rates. However, with expectations of another slew of rate hikes from the US Federal Reserve (US Fed) in 2019, it is likely the BSP may have to follow the US Fed's movement. Consequently, we should also anticipate yield spreads for both office and residential segments to contract as interest rates rise.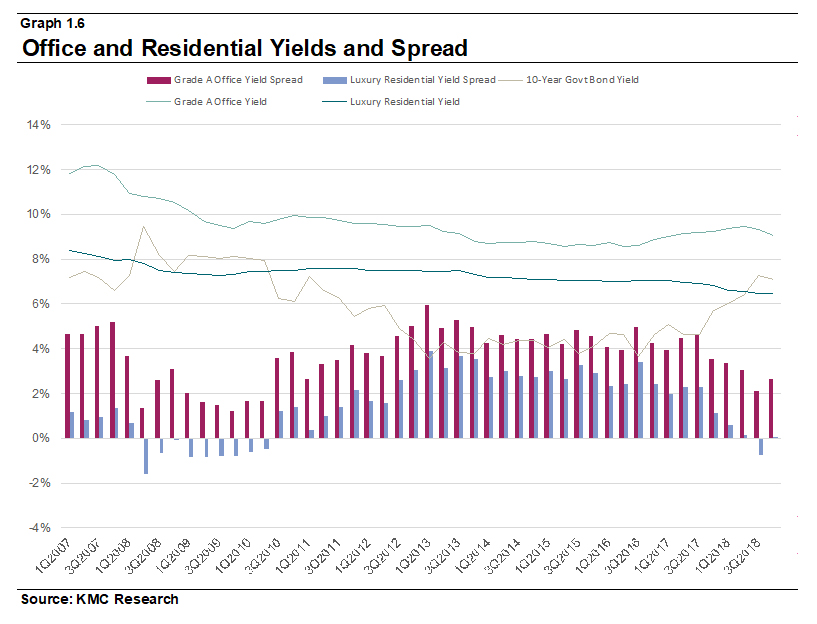 Tariffs may hurt returns
Given that cement prices are still climbing despite the flood of cement imports, we are of the view that local cement production is not keeping up with the accelerating demand from both public and private construction activity. Conditions like these indicate that there is a production deficit from the local cement industry, and in order to plug this gap, cement importation is vital to control prices. As such, we believe that a cement tariff is unnecessary to control inflation as it limits the entry of affordable cement that could relieve demand pressure. Lastly, this may exacerbate current price conditions if left to persist.
The real estate sector may manage to absorb the rise in costs in the short run due to the favorable demand for office and residential space. However, we do not discount the possibility that returns in the long run may be affected by unabated escalation of construction costs. Returns are likely to be hardest hit for projects currently under construction which will likely balloon capex budgets. In order to compensate this, developers may be compelled to pass on the costs to potential occupiers and buyers.